How to Obtain a Copy of Your Baptismal Certificate
Any member of the Christian faithful has a right to obtain a certificate of a Sacrament they have received and which was recorded in a sacramental register.  Only that person, the parents of a minor, someone with legal guardianship of another, a bona fide pastoral minister at another Catholic parish, or a diocesan tribunal official have the right to request a sacramental record.
If you were baptized at Saint John Vianney, and need a copy of your Baptismal Certificate, you may request one by calling the Parish Office at (407-855-5391), or by e-mailing Jordan Trejo (jtrejo@sjvorlando.org) or Jorge Montes (montesj@sjvorlando.org).  We will need to know the approximate month and year of your baptism in order to search our records.
A $5.00 materials fee is requested for a handwritten record (shown below)
A $10.00 materials fee is requested for a printed color copy of the record. (shown below)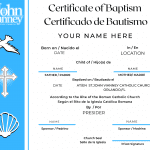 How to Request a Godparent/Confirmation Sponsor Certificate
All sponsors must go to the parish where they are registered and attend Mass in order to obtain a Sponsor Form. You must be a registered member of St. John Vianney in order for us to provide this certificate. You may request this certificate by calling the Parish Office at (407-855-5391), or coming to the church office.