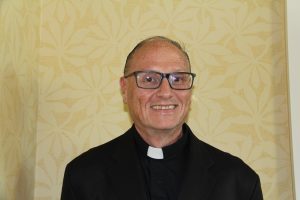 Rev. Thomas Walden, Pastor
Fr. Thomas Walden, was born in Allentown, Pennsylvania. His father lives here in Orlando, and his Grandmother lives in Pennsylvania. Both his Mom and his brother have gone to heaven.  Fr. Thomas moved to Orlando in 1991 and started working for Walt Disney World. He was employed with Disney for 15 years. Although he had many roles during that time, his favorite was playing a gangster on the Great Movie Ride at Disney/MGM Studios (now Disney's Hollywood Studios). He would have stayed with Disney had he not had a "higher calling." Although he entered seminary at age 39, Fr. Thomas can trace his call to the Priesthood back to seventh grade when he had to do a report about "what I want to be when I grow up." He was ordained a priest in 2012. His first assignment was to his home parish in south Orlando, Holy Cross.  Before beginning his assigment as Pastor of St. John Vianney, Fr. Thomas Walden was the Pastor at St. Joseph & St. Maximilian Kolbe in Orlando.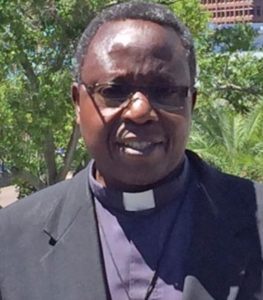 Rev. Sebastian Mpango
Fr. Sebastian Mpango is a priest from the Diocese of Kigoma, Tanzania.  The 4th child in a family of eight children, Fr. Sebastian was ordained to the priesthood on June 27, 1993.  Through his priestly ministry, he has served as a parish priest, as a hospital chaplain, a mental health counselor, principal, and as the Vicar General of his Diocese. He received a Bachelor of Science in Agriculture from Sokoine University, Tanzania, a Bachelor in Sacred Theology from Urbaniana University, Rome and a Masters in Mental Health Counselling from Marywood University, PA.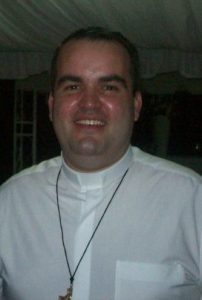 Rev. Carlos J. Cabán, SDB
Father Carlos José Cabán-Vazquez, SDB began his priestly formation in 1994 in Aibonito, P.R. He completed studies in Philosophy and Education in the Dominican Republic. In Rome, Fr. Carlos completed his initial formation, theology. He was ordained Priest in Aguadilla, PR in 2005, where his first obedience leads him to "Parroquia San Francisco de Sales", Cataño, P.R. After three years working there as head of the Youth Ministry, in 2008 Fr. Carlos was sent to Jarabacoa, Dominica Republic in charge of aspiring Salesians. In 2009, he was sent to work at the Industrial Polytechnic Institute of Santiago for 4 years. He returns to his homeland to work in the "Parroquia San José Obrero" of Aguadilla for two years as director, administrator and manager of the Youth Ministry. Fr. Carlos was assigned to St. John Vianney on August 2016.