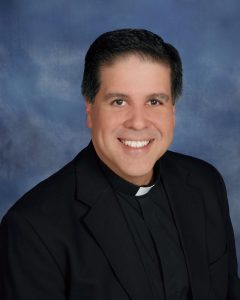 Very Rev. Miguel A. González
Fr. Miguel A. González was ordained to the priesthood for the Diocese of Orlando on May 23, 1998. He served as parochial vicar at the Cathedral Church of St. James, Orlando. In the fall of 2000, he was transferred to St. John Vianney Parish, where he continued his priestly ministry as a parochial vicar. For ten years, he said the Spanish televised Mass on Telemundo channel 40. He just finished a 10 year service as a member of the Board of Trustees for Bishop Moore Catholic High School in Orlando. On December 15, 2004 Bishop Thomas Wenski named Fr. Miguel full time Director of Vocations for the Diocese of Orlando. On March 1, 2011, Bishop John Noonan named him Parish Administrator of St. John Vianney Parish where he currently continues his priestly ministry. Prior to becoming a priest for the Diocese of Orlando, Fr. Gonzalez worked as an on-air personality and music program director for a commercial Spanish music radio station in Orlando, Florida.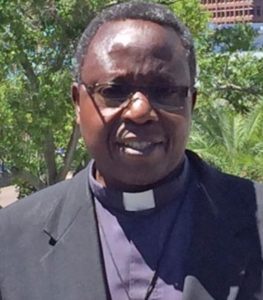 Rev. Sebastian Mpango
Fr. Sebastian Mpango is a priest from the Diocese of Kigoma, Tanzania.  The 4th child in a family of eight children, Fr. Sebastian was ordained to the priesthood on June 27, 1993.  Through his priestly ministry, he has served as a parish priest, as a hospital chaplain, a mental health counselor, principal, and as the Vicar General of his Diocese. He received a Bachelor of Science in Agriculture from Sokoine University, Tanzania, a Bachelor in Sacred Theology from Urbaniana University, Rome and a Masters in Mental Health Counselling from Marywood University, PA.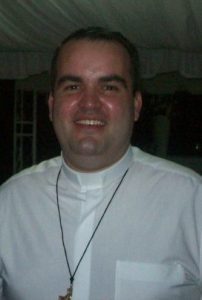 Rev. Carlos J. Cabán, SDB
Father Carlos José Cabán-Vazquez, SDB began his priestly formation in 1994 in Aibonito, P.R. He completed studies in Philosophy and Education in the Dominican Republic. In Rome, Fr. Carlos completed his initial formation, theology. He was ordained Priest in Aguadilla, PR in 2005, where his first obedience leads him to "Parroquia San Francisco de Sales", Cataño, P.R. After three years working there as head of the Youth Ministry, in 2008 Fr. Carlos was sent to Jarabacoa, Dominica Republic in charge of aspiring Salesians. In 2009, he was sent to work at the Industrial Polytechnic Institute of Santiago for 4 years. He returns to his homeland to work in the "Parroquia San José Obrero" of Aguadilla for two years as director, administrator and manager of the Youth Ministry. Fr. Carlos was assigned to St. John Vianney on August 2016.