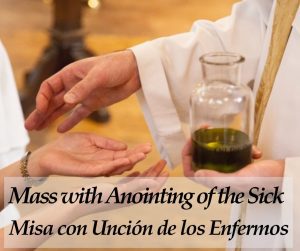 Mass with Anointing of the Sick
Misa con Unción de los Enfermos
We invite you to a bilingual Mass for our patients. We have the sacrament of the anointing of the sick. So together we can ask for the needs, as well as the body, and the soul, and give thanks for the favors granted.
Adoration to the Blessed Sacrament at 6:00 PM
St John Vianney Catholic Church-Tuesday, November 13 at 7 PM
"Come o me, all you who are weary and burdened, and I will give you rest."   ~ Matthew11:28
Los invitamos a una misa bilingue por nuestros enfermos.  Tenemos el sacramento de la unción de los enfermos.  Así juntos podremos pedir por las necesidades, tanto como del cuerpo, como del alma, y dar gracias por los favores concedidos.
Adoración al Santísimo  empezando a las 6:00 pm
San Juan Vianney Catholic Church-Martes  13 de noviembre a  las 7 PM
"Venid a mi todos los que estáis cansados y agobiados que yo os aliviaré"     ~ Mateo 11:28