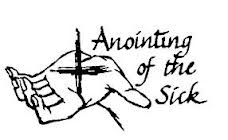 The sacrament of Anointing of the Sick will be celebrated in communal form at a special bilingual Mass on Tuesday, November 14 at 7:00 PM.
The Mass will be preceded by silent Eucharistic Adoration from 6:00PM to 6:40PM.
Everyone is invited to this Mass. The baptized faithful who may receive this the sacrament of Anointing of the Sick are children and adults about to undergo or who are recovering from surgery; those experiencing or being treated for a serious physical or mental illness; those who are physically handicapped; and those seriously impaired by old age.
"If anyone of you is ill, he should send for the elders of the church, and they must anoint him with oil in the name of the Lord and pray over him." (James 5: 14)